Automobiles and society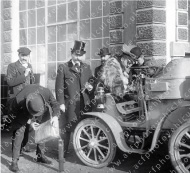 Whether valued or, conversely, considered ridiculous-even a catastrophe-the automobilization of the world in the 20th century nonetheless represents its logic. By journeying through the automotive dream and its icons, examining its evolution and the various practices of the art of driving, and analysing representations of the automobile and its spread across the globe through all strata of society*, this selection of plates demonstrates that from its earliest days the automobile had become a true social phenomenon. [* Flonneau, M., Les cultures du volant - XXe-XXIe siècles - Essai sur les mondes de l'automobilisme, Paris, Editions Autrement, 2008.]
Sporting events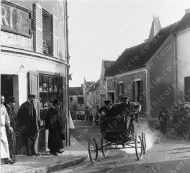 While the first automobile event ran from Paris to Rouen on 22 July 1894, the first officially supervised race didn't take place until mid-June 1895 with the "Paris-Bordeaux-Paris" event. The Tour de France Automobile, the Gordon Bennett Cup, "Paris-Vienna", and "Paris-Madrid" were the first benchmarks in auto racing (among a myriad of other races: hill climbs, kilometre speed record trials, track races, etc.), which pitted the best drivers of the era and the jewels of French companies—Panhard & Levassor, Renault, Peugeot and others—against foreign machines. Deus ex machina...
2- and 3-wheeled vehicles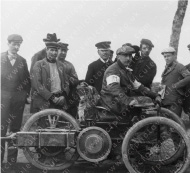 Far from occupying a trivial place in this history, "motorettes", motorcycles and other tri-cars-motorized vehicles with two or three wheels-embodied the spirit of the first vehicles of modern locomotion: lightness, driveability, handling and speed. They represented the foundations of mechanical and competitive technique, put into practice by the greatest drivers and carmakers when at the controls.
Commercial vehicles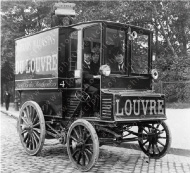 While auto racing clearly represented an essential laboratory for automotive development, a large number of races (also organized and overseen by the Automobile Club de France) allowed vehicles produced to convey people or goods (industrial vehicles, delivery cars, the first taxis, etc.) to demonstrate their real-world value both to carmakers and spectators, and even to the readers of trade journals.